Confocal, Super-Resolution and Digital Light-Sheet Microscopes
Image


The Leica SP8 spectral confocal microscope is equipped with three high sensitivity, low-noise hybrid detectors capable of photon counting and two conventional PMT detectors. Sample excitation can be accomplished by multiple lasers including a pulsed white light laser tunable from 470 to 670 nm that allows selection of the optimal excitation wavelength; the LightGate panchromatic electronic barrier filter allows gating of the detectors to avoid collecting signal during the laser pulse so that only pure emission signals are collected. The system also has conventional fixed laser excitation lines at 405, 458, 476, 488, 496 and 514 nm. For two-photon imaging, including FLIM-FRET, the system has a MaiTai DeepSee Ti-Sapphire ultrafast laser (tunable between 680–1060 nm). The SP8 is equipped with both a conventional point scanner for work requiring the highest sensitivity and a resonant scanner for live cell imaging (28 fps at 512x512). An environmental chamber for temperature and CO2 control during prolonged live-cell imaging experiments is available. Complex experimental designs, 3D image tiling and 3D rendering and measurements are possible with the LAS AF Leica software.
The Leica confocal microscope has been upgraded with a 3D STED super-resolution system. This system can achieve a resolution of 50 nm or less. Three depletion lasers (592, 660 and 775 nm) enable multicolor detection of a wide range of fluorophores. Use of the Huygens deconvolution software programs allows for further improved resolution.
Download an STED technology basics and sample preparation guide (PDF).
The following objectives are available for this system:

Download the free Leica LAS X Core Offline software. Scroll down to Downloads.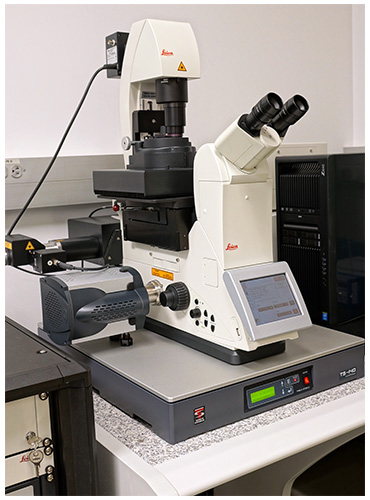 The Leica GSD 3D super-resolution microscope with TIRF possesses four different laser lines (488, 560, 642 and 405 nm) and a fast, highly sensitive Andor iXon Ultra 897 EMCCD camera for detecting up to three fluorophores. The microscope also includes a fully automated TIRF system allowing super-resolution to be combined with TIRF microscopy.
Download the GSD miscroscopy basics and sample preparation protocol (PDF).
The following objectives are available for use with the GSD system:
| Mag. | Objective Description | NA | Immersion Medium | Working distance (mm) |
| --- | --- | --- | --- | --- |
| 10x | HCX PL FLUOTAR | 0.30 | Air | 11 |
| 100x | HC PL APO CORR TIRF | 1.47 | Oil | 0.09 |
| 160x | HC PL APO | 1.43 | Oil | 0.07 |
The Leica TCS SP8 system possesses fixed diode laser lines (405, 488, 552, 638 nm) that can be utilized for conventional confocal microscopy or digital light-sheet applications. Illumination with the light sheet allows rapid acquisition of multiple images (>100 frames/second) to permit 3D rendering and results in low phototoxicity. Imaging can be performed for entire organs (e.g., Arabidopsis roots) or organisms (e.g., Drosophila embryos, developing zebra fish). Extended time-lapse acquisition can be used to monitor physiological or developmental changes over time.
Download the guide to light-sheet microscopy basics and sample preparation protocol (PDF).
The following objectives are available for use with the confocal and light-sheet systems:
The following objectives are specifically for use with the light-sheet system:
| Mag. | Objective Description | NA | Immersion Medium | Working distance (mm) |
| --- | --- | --- | --- | --- |
| 2.5x | HC PL FLUOTAR | 0.07 | Air | 9.4 |
| 10x | HC APO DLS L | 0.30 | Water | 3.6 |
| 25x | HC PL APO IMM CORR CS2 | 0.75 | Water | 2.5 |
Laser Capture Mirodissection

An automated system for UV laser cutting (microdissection) and IR laser capture of tissue samples, mounted on a Nikon Eclipse TE2000 inverted microscope. Capable of brightfield, phase-contrast, DIC and fluorescence microscopy. Equipped with a color CCD camera.
Lenses
This system is equipped with five objective lenses:
| Mag. | Objective Description | NA |
| --- | --- | --- |
| 2x | Plan UW | 0.06 |
| 4x | Plan Fluor PhL DL | 0.13 |
| 10x | Plan Fluor Ph1 DL | 0.30 |
| 40x | ELWD Plan Fluor Ph corr. | 0.60 |
| 60x | ELWD Plan Fluor Ph corr. | 0.70 |
Filters
The following fluorescence filters are available on this system (excitation, emission):
340-390, >410 (e.g. DAPI, Hoechst)
455-495, >510 (e.g. FITC, GFPs, Alexa 488)
503-548, >565 (e.g. Cy3, rhodamine, RFPs, Alexa 546)
570-630, >655 (e.g. Cy5, Alexa 633, Alexa 647)
For additional information and current protocols, visit the ThermoFisher website.
Consumables for laser capture microdissection are available at the ALMC
The following items are in stock:
| | | |
| --- | --- | --- |
| CapSure Macro LCM Caps | LCM0211 | 48 caps |
| PEN Membrane Glass Slides | LCM0522 | 50 slides |

Please call us at 882-4895 if you need additional Arcturus® supplies or reagents for LCM.
Protocols from Molecular Devices
Application Notes from Molecular Devices
Image analysis/processing
Sample preparation
Life Technologies Supply Center
ALMC has an on-site Life Technologies Supply Center stocked with fluorescent secondary antibodies and markers. Consumables for laser capture microdissection are also available. In addition to our normal inventory, clients may special order anything from the Life Technologies catalog without shipping fees.
File transfer system
ALMC has a server that can be remotely accessed from any computer on the MU campus. It serves as a TEMPORARY holding place for files to facilitate transfer of the data you generate at the core to a local computer in your lab/office. Please note that due to space limitations the storage space is cleared every morning at 8:00 am, such that your files will only be stored for a maximum of 24 hours and you need to transfer them to your computer on the same day they were placed on the server. For instructions on connecting to this utility contact ALMC staff.