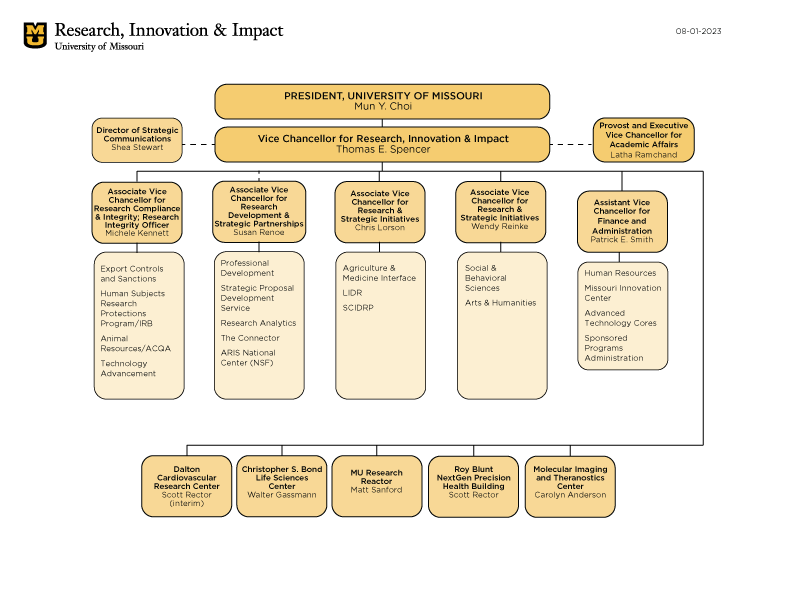 The Division of Research, Innovation & Impact (RII) invests in the success of Missouri, the nation and the world by empowering University of Missouri researchers, scholars and entrepreneurs to develop projects that push the boundaries of discovery and scholarly pursuit, launch breakthrough innovations and technologies, and deliver research that offers beneficial impacts to the public.
Serving a community of more than 31,000 students and nearly 3,000 faculty members and full-time researchers, the division supports and advances their scientific, creative and entrepreneurial endeavors by providing professional development, project development and submission assistance, proposals and awards management and intellectual property protection so researchers can be successful in the research enterprise at Mizzou.
The division also oversees compliance, safety and regulatory affairs, facilities security and research integrity to equip Mizzou researchers with the resources and guidance to ensure their research ventures comply with all applicable laws and regulations.
The division is dedicated to building strategic collaborations with industry and business partners that allow Mizzou to grow research and service contracts while enhancing internships, job placements and the entrepreneurial ecosystem.
Division-supported undergraduate and graduate research initiatives and entrepreneurship programs prepare students to thrive as innovators in the workforce through real-world experiences with faculty mentors, starting a business, publishing in academic journals and more.
The university supports RII's mission through multidisciplinary research centers such as the Christopher S. Bond Life Sciences Center, the MU Research Reactor and the Roy Blunt NextGen Precision Health building and 15 advanced technology core facilities to provide investigators with the tools to engage in revolutionary research.
A member of the prestigious Association of American Universities, MU has annual research expenditure of $432 million and a $5 billion impact on Missouri's economy.
The Division of Research, Innovation & Impact is administered by Vice Chancellor Thomas E. Spencer.
Sign up to get the latest news about funding opportunities, professional development, research news, accolades and important deadlines.