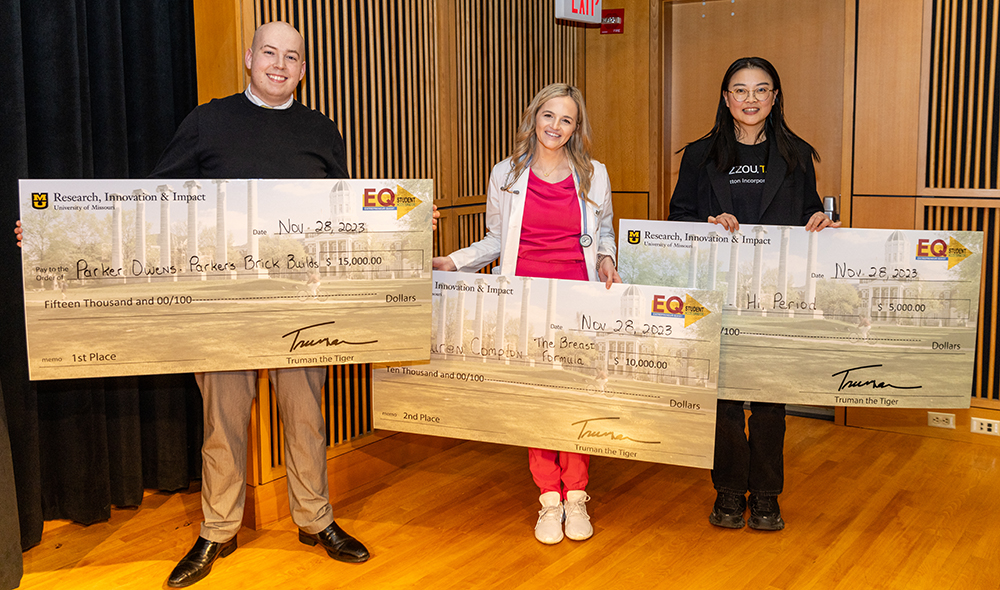 The winners of Entrepreneur Quest 2023 are, left to right: First place, law student Parker Owens, for Parker's Brick Builds, which offers customized build kits using LEGO-style blocks; Second place, Lauren Compton, nursing doctoral candidate, for her freeze-dried breast breast milk service; and third place, Jia Wu, textile and apparel management doctoral candidate, for her sustainable period underwear for wheelchair users. Learn more about this year's top 10 teams.

About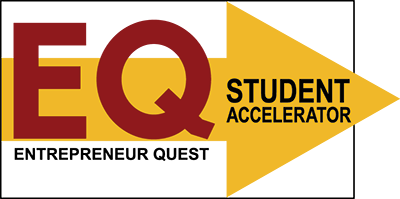 Entrepreneur Quest (EQ) is an opportunity for any full-time Mizzou student to create a new venture. EQ provides the workshops, tools, networking, mentoring and a $30,000 prize pool to help you translate your ideas and side hustles into viable and scalable businesses. Work with like-minded peers, immerse yourself in the startup world and receive coaching from successful entrepreneurs. 
 
Program
Academic year 2023-24
Sept. 7
Application deadline
Sept. 13
Top 15 applicants notified
Sept. 19, 4-7 p.m. (Monsanto Auditorium, Bond Life Sciences Center)
The top 15 applicants compete in an elevator pitch competition before a panel of judges who choose 10 finalists with the most scalable ventures. The audience favorite receives $2,000.
Sept. 21
Top 10 finalists notified of acceptance into EQ program
Sept. 27 to Nov. 15
The finalists participate in EQ's eight-week education program and receive mentoring from entrepreneurial leaders, inventors and other experts.
Nov. 28, 4-7 p.m. (Monsanto Auditorium, Bond Life Sciences Center)
Judges award seed funding to three teams for their ventures during EQ's final pitch competition.

This year, winners receive a lump sum investment along with the opportunity to win additional funding (called an earnout) if they achieve jointly agreed upon milestones by May 15, 2024.
First place: $10,000 with an additional $5,000 earnout
Second place: $6,000 with an additional $4,000 earnout
Third place: $3,000 with an additional $2,000 earnout
EQ is sponsored by Hawthorn Bank, the U.S. Bank Foundation and the employees of Veterans United Home Loans.
 
Contact Us