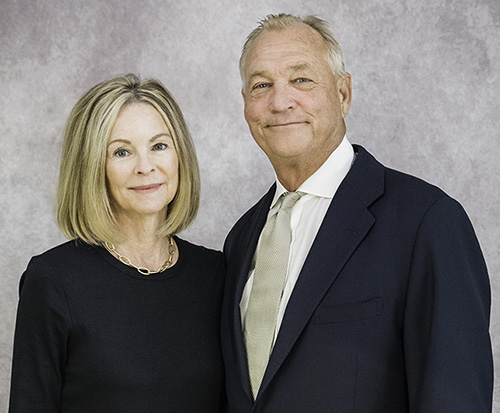 Founding sponsors
Robert and Shelly Griggs and their sons, A.J. and Bo, created a lasting legacy in 2021 as founding sponsors of the Griggs Innovators Nexus, inspiring generations of entrepreneurial students at the University of Missouri. Robert, who graduated from MU in 1977 with a bachelor's degree in agricultural economics, is founder and president of Trinity Products, one of the nation's leading producers of large-structure, spiralweld steel pipe. He and his wife, Shelly, live in St. Charles, Missouri.
A.J. and Bo also are Mizzou alumni. A.J. earned a degree in interdisciplinary studies in 2009, is part of Trinity's leadership team and is a member of the company's board of directors. Bo started another Griggs family business called National Flatbed Solutions in 2019 after graduating from MU with honors and a history degree in 2010.
"Mizzou changed the trajectory of my life and allowed me to see the world differently," Robert Griggs said at the Sept. 14, 2021, event announcing his $450,000 gift to support student entrepreneurs. "It's important to me and my family that we give back and share our blessings. It doesn't get much better than supporting entrepreneurship at my alma mater."
Learn more about the gift that established the Griggs Innovators Nexus.

Interested in supporting Mizzou's student entrepreneurs?
Entrepreneurship programs at MU create economic opportunities for students and empower them to put learning into practice, take risks in a safe environment, problem solve, think unconventionally and tap the state's innovation ecosystem.
Gifts to the Entrepreneur Quest Student Accelerator, the signature program of the Griggs Innovators Nexus, help students translate their ideas into viable companies. Learn more or make a gift at Mizzou Give Direct.
Contact us