Above: Veterinary student Jack Murray poses with his dog Heidi. He won $1,000 as the crowd favorite at the EQ semifinalist competition and an additional $15,000 during EQ's finale in March 2022 for the Murray Kennel Co. space-saving dog crate.
About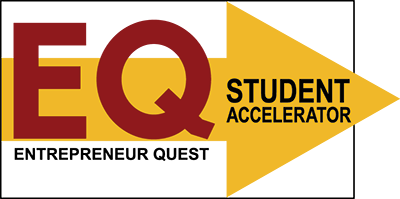 Entrepreneur Quest (EQ) is an opportunity for any full-time Mizzou student to create a new venture. EQ provides the workshops, tools, networking, mentoring and a $30,000 prize pool to help you translate your ideas into a viable business. Work with like-minded peers, immerse yourself in the startup world and receive coaching from successful entrepreneurs. 
 
Timeline, 2022-23
How-to workshops, MU Student Center
Speakers share information about the EQ application process, business models and venture pitching. 
Sept. 21, 4-5 p.m., Room 2206C
Sept. 28, 4-5 p.m., Room 2205AB
Oct. 5, 4-5 p.m., Room 2206C
EQ applications due Oct. 16
Elevator pitch competition, Nov. 8
The top 15 applicants compete before a panel of judges who choose 10 finalists with the most scalable ventures. The audience favorite receives $1,500.
Education program, January, February and March 
The finalists participate in EQ's eight-week education program and receive mentoring from entrepreneurial leaders, inventors and other experts.
Final pitch competition, March 
Judges award seed funding to three teams for their ventures: $15,000 for first place, $10,000 for second place and $5,000 for third place.
 
Contact Us