Engineering student wins UM System competition
April 17, 2020

Drew Patel, a sophomore computer science major from Springfield, Missouri, won first place with his startup business Pollinate in the University of Missouri System's Entrepreneur Quest (EQ) finale April 16, 2020.
At the event, Mizzou's top three teams Norah Health, Pollinate and Printerior competed against each other and teams from the University of Missouri-Kansas City, Missouri University of Science and Technology and the University of Missouri-St. Louis to win $15,000 in funding for first place, $10,000 for second place and $5,000 for third place.
"We are wrapping up our second year of EQ with an expanding pipeline of scalable student businesses," said Bill Turpin, MU interim associate vice chancellor for economic development. "This program gives students a safe environment to try their hand at starting a real company."
Patel was inspired to create a better package delivery service for emerging economies after experiencing delays and other issues in India. Further research led him to focus his efforts on improving e-commerce delivery systems in East Africa.
"Shipping in East Africa is very difficult and expensive," Patel said. "Packages are often late, lost or stolen. Customers won't order online because last-mile delivery costs are three times more expensive in emerging economies than in U.S. markets."
E-commerce companies like Amazon are forced to use many different subcontractors in East Africa, making it virtually impossible for customers to track their packages, Patel said. The last mile of the delivery is the most expensive part because landmarks are often used instead of addresses. Pollinate's solution is an on-demand delivery platform that would allow customers to pick up their packages at their neighborhood market stall instead of paying exorbitant fees for door-to-door delivery.
The UM System's EQ program helps students translate their ideas into viable companies by immersing them in the business world through networking opportunities, mentoring from successful entrepreneurs and real-world experiences with the commercialization process. The four UM System universities organize these campus-level EQ activities, which culminate in the spring with the selection of each school's three most promising ventures. For more information, see news release and story.

Mizzou's top teams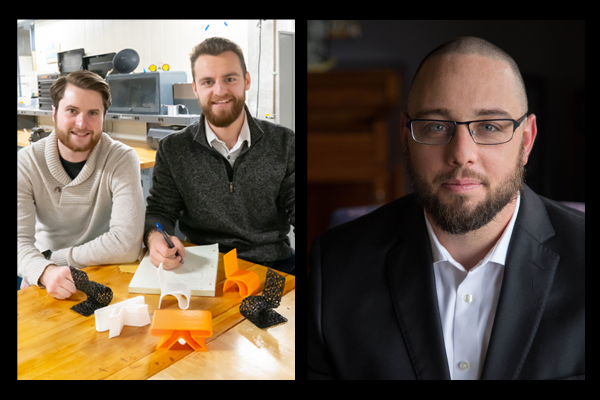 Patel's company Pollinate, which won second place at the MU campus level, was one of three teams chosen on March 31 to receive funding and a spot in the System finale competition.
Dan Hoffman, a student in the Trulaske College of Business execMBA program, won first place at Mizzou for Norah Health. The company has developed software that uses machine learning to give health care providers actionable insights to improve a patient's experience.
As a radiology supervisor at Barnes-Jewish Hospital in St. Louis, Hoffman could find a wealth of information about how to treat patients clinically but noticed a gap in available data to help hospitals improve the overall experience of individual patients.
Currently, Medicare and Medicaid providers are rewarded or penalized financially based on patient satisfaction scores. Many individual clinicians also are incentivized monetarily for earning high scores.
"We're a predictive tool," Hoffman said. "The way we set ourselves apart is that we give insights to health care providers to use when they are interacting with a patient. The competition to date is telling you what your patient said about you, and then they're leaving it up to the hospital to figure out how to improve."
Norah Health is now embarking on a clinical trial to test its software system with patients and physicians at the MU Health Care Digestive Health Center. Hoffman said EQ helped him turn his business idea into a reality.
 
"I would encourage all inspiring entrepreneurs at Mizzou to get involved in EQ. It has truly been a game changer for me personally and for my business."

– Dan Hoffman

"I learned how important it is to get feedback from your potential customers before taking your product to market," Hoffman said. "We are going to use our funding to do exactly that. I would encourage all inspiring entrepreneurs at Mizzou to get involved in EQ. It has truly been a game changer for me personally and for my business."
Trent Esser, business management, and Hayden Seidel, civil and environmental engineering, founded Printerior based on mutual interests and a desire to solve the world's plastic problem. They placed third in MU's competition for their company, which uses 3D printers and recycled plastic to create sustainable furniture.
"We shared a passion for sculpture and design and were always looking for ways to form unique, 3D objects," Esser said. "And we both thought sustainability was a way to make a difference."
Printerior uses large-scale adaptive manufacturing techniques to craft custom-made furniture pieces and other products from raw waste plastic or post-industrial plastic sourced from communities and recyclers. Right now, Esser and Seidel, who plan to offer high-end products designed by a host of different designers, are partnering with contacts in the Netherlands to test plastic compounds and optimize their 3D printing equipment.
"Throughout the EQ program I've gained a vast amount of knowledge about all of the aspects of starting your own business," Seidel said. "I would say the most impactful part of the program was having the guest speakers come in every week and talk about their experiences in starting their own businesses."
 
See video highlights from Mizzou's EQ Program.

Fifty teams applied to be part of the 2019-20 EQ program at MU. A panel of alumni judges awarded spots to 11 after evaluating applicants at a Nov. 18, 2019, pitch competition. Two teams later dropped out due to time constraints.
"This year's group of EQ students set a high bar for next year's program," said Greg Bier, executive director of entrepreneurship programs at MU. "EQ continues to attract students from across campus, and we are fortunate that our sponsor, the Employees of Veterans United Home Loans, made it possible for us to provide them with funding."
At the beginning of the spring semester, MU's nine EQ teams honed their ventures with help from coaches, workshops, the School of Law's Entrepreneurship Legal Clinic and other resources. The other teams were:
Zach Cook, MBA graduate student – Vesta: One-stop cold storage container for the e-food and beverage delivery industry.
Maxwell Fazekas, electrical engineering graduate student – Max Fix: Economical cell phone repairs. 
David Goddard, finance graduate student – Ozark Fishing Adventures: Provides guide service, gears and lures.
Emily Housey, journalism strategic communication – Housey Designs LLC: Customizable products and art for Generation Z. 
Madison Read, graphic design – Doodle Bed: Creates art on white sheets for hospital patients to color with markers; especially for sick children and elderly patients with dementia.
Daniel Serres, political science and communications, and Vanessa Ramirez, political science – Fresher Than U: Provides canvases on everyday items, such as car air fresheners, to showcase the work of digital graphic artists.
Less than a week before the program's second pitch event, the university began operating remotely due to the COVID-19 pandemic. Instead of presenting before a live audience, students uploaded narrated pitch decks for judges, who narrowed the field to three teams. Those three teams then presented their pitches live on Zoom for six new judges.
"I couldn't be prouder of this year's winning teams," said Bier. "Given the changing circumstances of working remotely and having to present their pitch decks through a live virtual platform, these teams proved they were able to handle the difficult challenges entrepreneurs face."
 
Learn how EQ accelerates student businesses.
Student-designed EQ posters