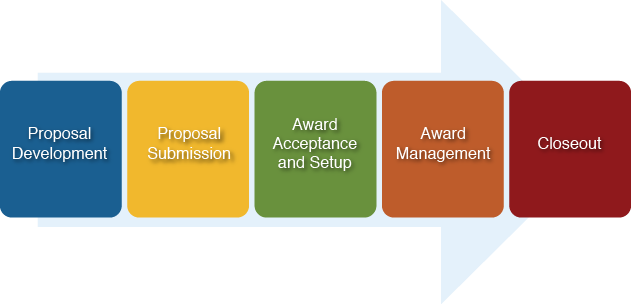 What we do
Sponsored Programs Administration (SPA) oversees external grants and contracts awarded to the Curators of the University of Missouri (known as sponsored projects).
A sponsored project is a project in which activities are funded by an entity outside the University of Missouri for a specific purpose which includes, but is not limited to, any research, scholarly, instructional, travel, conference, training or public service activity. A sponsored project will include (1) a statement or scope of work for a defined period of performance, (2) budget for funding to the University, and (3) a designated Principal Investigator, Program Director or other Lead or Contact Investigator. The funding mechanism can be through an award, grant, contract, cooperative agreement, memorandum of understanding, purchase order or other agreement that restricts or places terms and/or conditions upon the use of the funding or property.
Services available to all university faculty and staff include:
Advice and assistance with budget preparation and other administrative requirements of proposals.

Review, negotiation and acceptance of awards.

Information regarding policies and regulations.

Issuance and administration of subcontracts and other subawards.

Sponsor communications.

Award management, reporting and closeout.
Our services
Pre-award
Grants and contracts

Senior grants and contracts administrators support a portfolio of department/division customers and review and coordinate the submission of competitive proposals. When funded, the senior grants and contracts administrators will negotiate terms and conditions and set up awards (issue spending MoCodes).
Clinical trials
Industry-funded clinical trials (pre-award and post-award)

Senior grants and contracts administrators negotiate terms and conditions, set up awards (issue spending MoCodes) and invoice sponsors.
Post-award
Post-award teams

Post-award teams consisting of a team lead and post-award analysts support a portfolio of department/division customers to invoice sponsors, issue no-cost time extensions, process changes of principal investigators or key personnel, prepare financial reports and close out awards.
Compliance
Compliance managers issue subcontracting agreements and consulting agreements, and assist with sponsor audits and departmental reporting.
Confidentiality, data use and material transfer agreements
SPA supports faculty by executing unfunded research contracts, including negotiating the terms and conditions of nondisclosure agreements, material transfer agreements and data transfer and use agreements.
Development
Sponsored programs specialists administer limited submissions funding opportunities and promote and support the Certificate Series for Specialized Grants Training.

Internal funding coordinator administers internally sourced research and creative works support such as Research Council grants and PRIME.
Authorized institutional officials
Authorized signatory for grants, contracts, awards and other research-related agreements.
Our teams