Monthly reports are updated on the fifth working day in each new month and published two to three working days later for the MU community to access. These reports contain data through the last full month. If you are a member of the MU RII Research Analytics Subscribers group, you will receive an email informing you that the new monthly reports are available. Anyone that is part of this group will also be granted Power BI report access.
New users subscribe – please email us and include your username (pawprint) along with "subscribe" in the subject line.

Unsubscribe – if you do not want to receive monthly updates in the future, please email us and include your username (pawprint) along with "unsubscribe" in the subject line. This will also remove you from our reporting access.
Monthly reports
Static reports
Monthly reports and archived reports can be accessed on our Research Analytics SharePoint site. 
Reports available include:
Sponsored projects by CSD FYTD

Sponsored projects chartbook

Sponsored projects report by CSD

Sponsored projects pivot tables (proposals, awards and expenditures)
Online dashboards
Our online dashboards are published in Microsoft Power BI.
If you do not have access, please request permission and include your username (pawprint).

Once permission is granted, go to app.powerbi.com and sign in with your UM credentials (pawprint@umsystem.edu). 

You may automatically be directed to the homepage if you are already logged into Microsoft tools online in your browser.

On the lefthand side, click on Apps.

Select MU RII Research Analytics – Production. 

If it is not listed, click the yellow Get apps button (top right) and search for this app.
Need help?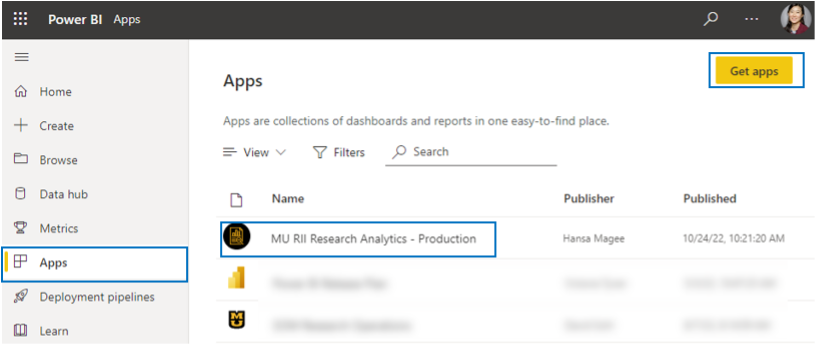 Sponsored data analytics group
This group, consisting of representatives from the colleges, will serve as a communication highway for reporting changes, development of new reports, and for discussion of best reporting practices. This representative is assigned by the college's associate dean of research (ADR). Please connect with your ADR or email us if you have questions or would like to participate.
Contact Us