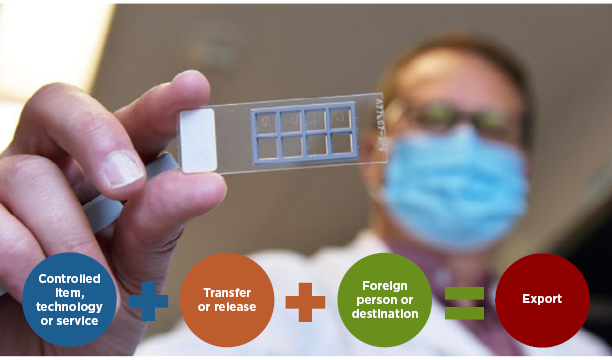 The Export Controls team assists in identifying federal regulations and possible exemptions/exclusions related to your international activity.

What is an export?
An export is the transfer or release of a controlled item, technology or service to a foreign person or destination.
The U.S. government has implemented regulations controlling exports to allow as much international engagement as possible while restricting the export of key things, interactions with key people and engagement with countries for the purposes of:
Protecting national security.
Advancing economic interests.
Achieving foreign policy objectives.
Because of this, export controls are a complicated network of regulations that identify which exports require specific permission from the federal government in the form of an export license and which do not require explicit governmental approval.
Activities that may be restricted:
Participating in export-controlled research at MU (if you are a foreign scholar or student).
Disclosing or discussing previously unpublished research at conferences and meetings where foreign nationals are present.
Collaborating with foreign investigators.
Teaching foreign collaborators how to use export-controlled items in research, which is regulated as "providing a service."
Sending research equipment abroad.
Federal regulations
Export Administration Regulations (EAR)
The U.S. Department of Commerce administers these regulations (15 CFR §§730-774), which control the export of "dual-use" items, such as goods and technology designed for commercial purposes with possible military applications (e.g., computers, aircraft and pathogens). See list of EAR-controlled items, called Commerce Control List (CCL), at 15 CFR §774, Supplement 1.
For goods and technology listed on the CCL, a license will be required for export, unless an exclusion or exemption applies.
When embargoed countries are involved (see OFAC Sanctions Program below), a license will be denied.
An additional "catch-all" category in the regulations, EAR 99, covers any goods or technology defined in 15 CFR §734.3(a), but not on the CCL.
Items in the EAR 99 category may or may not require a license, depending on the country involved and individual(s) to whom the export will be made.
International Traffic in Arms Regulations (ITAR)
The U.S. Department of State administers ITAR (22 CFR §§120-130). ITAR controls the export of defense articles, services and related technical data – items the Department of State has determined to be inherently military in nature (e.g., items designed to kill or defend against death in a military context).
The U.S. Munitions List (USML) includes ITAR-controlled items (22 CFR §121). Unless a specific exclusion or exemption applies, licenses are required for the export of an USML-listed item in these categories:
Firearms, guns and ammunition
Missiles, explosives and incendiary agents
Military vehicles and vessels of war
Military training equipment
Protective personal equipment
Spacecraft systems and associated equipment
Toxicological agents, including chemical and biological agents
Nuclear weapons, including design and testing of related items
Directed-energy weapons
Submersible vessels, oceanographic and associated equipment
Note that all satellites and related technologies are controlled by ITAR as a result of the 1999 congressional expansion of ITAR jurisdiction.
Office of Foreign Assets Control (OFAC) Sanctions Program
This program, which is based on U.S. foreign policy and national security goals, administers and enforces economic and trade sanctions against targeted foreign countries, terrorists, international narcotics traffickers and those engaged in activities related to the proliferation of weapons of mass destruction. The scope of the boycott program depends on the country involved and is subject to change. See complete sanctions list on OFAC's website.
Important note: The OFAC Sanctions Program may prohibit you from conducting surveys of people in sanctioned countries.
To avoid major fines (potentially up to $1 million), an exemption or exception to the requirement for a license must be available (please be more specific…what should be on file and where?)
Exclusions
A variety of exemptions/exceptions are possible, but the one most often used in academic settings is the fundamental research exclusion.
Fundamental research exclusion
Fundamental research is characterized as basic or applied research in science and/or engineering at a U.S. accredited institution of higher learning that produces information published and shared broadly within the scientific community.
Fundamental research is excluded from export control regulations. This means that information (not materials or technology) generated from fundamental research at MU may be disclosed to foreign nationals and is not subject to export control restrictions.
University research does not qualify for this exclusion if:
MU or the investigator accepts restrictions on the publication of information resulting from research (does not include limited prepublication reviews by research sponsors to ensure that proprietary information is not disclosed or patent rights compromised).
The research is federally funded and specific access and dissemination controls regarding the resulting information have been accepted by MU or the investigator.
Materials or technology are created.
A sponsor's existing proprietary information when some or all of that information is required to be held confidential.
The information is related to export-controlled equipment, regardless of its use in research projects and classes.
Educational instruction exclusion
Export control regulations do not apply to information released in academic, catalog-listed courses or in teaching labs associated with those courses. In their courses, faculty members may discuss what might otherwise be export-controlled technology without an export control license, even if foreign national students are enrolled in the course. This exclusion is based on the recognition in ITAR that general scientific, mathematical or engineering principles commonly taught in schools and universities and information in the public domain should not be subject to export control restrictions.
Public domain/publicly available exclusion
Information published and generally available to the public, as well as publicly available technology and software, is outside the scope of export control regulations. This exclusion does not apply to:
Encrypted software.
Information that may be used for weapons of mass destruction.
Areas where the U.S. government has imposed access or dissemination controls as a condition of funding.
Exemption for disclosures to bona fide, full-time employees
ITAR allows U.S. universities to disclose unclassified research/technical data to foreign nationals when:
They are the are the university's bona fide, full-time, regular employees.
Their permanent abode throughout the period of employment is in the U.S.
They are not foreign nationals from an embargoed country.
The university informs employees in writing that information disclosed may not be disclosed to other foreign nationals without government approval. (This exemption is less common than the three exclusions listed above.)
Note: Most graduate students are not regular, full-time university employees and disclosures to them will not qualify for this exemption.
Contact Us