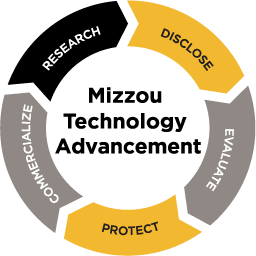 What we do
We partner with MU employees, industry contacts, entrepreneurs and investors to help translate innovations into products, jobs and businesses.
Will your research innovation benefit society?
Our team helps inventors leverage the impact of their research, which often leads to new technologies, tools, therapeutics, diagnostics, compositions, processes, apps, models and other innovations that improve lives.
Our professionals:
Evaluate inventions for novelty, utility and market potential.
Secure intellectual property protection, such as patents and copyrights.
Identify potential commercial partners and mentors.
Negotiate and manage licenses and other agreements.
Manage invention reporting and compliance requirements from federal, state and industry sponsors.
Contact us early for feedback and before you share your work publicly.
Assistance for innovators
We are available to help you:
Craft intellectual property strategies for your grant proposal.
Develop a company around an innovation (for small business funding proposals).
Find resources to advance your early-stage innovations, such as translational research programs, business accelerators and Mizzou Lab 2 Market services.
Navigate requirements and best practices for employees interested in founding a startup company based on Mizzou research.
Meet MU faculty and staff with new patents, licensed technologies and first product sales in our 2021 report.
Tips and timelines
Access our tip sheets for guidance throughout your tech advancement journey.
Contact Us