Image
Access to veterinary care for pets is a problem for one out of four American households due to budget constraints, lack of transportation and other barriers, according to University of Missouri veterinary student Abbie Knudsen, who participated in a 4impact social entrepreneurship pitch competition and showcase May 6 for business ventures with a philanthropic focus.
"When veterinary care is not accessible, a pet may face prolonged illness, pain or premature death, causing emotional distress for the family," said Knudsen during her presentation.
A native of St. Charles, Missouri, Knudsen participated in the 4impact program to learn what it means to run a "social impact" company and to help secure funding for Pet Wellness Alliance, a new nonprofit veterinary clinic in Columbia that will provide discounted products and services and other financial support to better meet the needs of families, regardless of socioeconomic status.
Members of Mizzou's chapter of the Collegiate Entrepreneurs' Organization (CEO) launched 4impact in 2021 for students interested in developing business ideas with a common-good objective. In April, participants attended a series of workshops, including one on ideation led by Misty Larkins, the president of local marketing agency Relevance and previous public relations manager at the Central Missouri Community Action agency for low-income families.
"4impact represents a shift in how society thinks about the role of businesses," said CEO president Aaron Heienickle, a sophomore from Weldon Spring, Missouri, majoring in marketing and computer science. "Organizations, both for-profit and nonprofit, now have a duty to use their strengths and influence to make a positive impact on the world. Our focus is to change the mindset of students about what it means to be an entrepreneur."
Kundsen was one of seven finalists who competed for a pool of $5,000 in funding provided by sponsor Veterans United Foundation. They spent four minutes pitching their ventures and two minutes answering questions from a panel of judges. The judges evaluated each business on its relevance, social impact and capacity to gain traction and grow.  
Knudsen, who won $1,300, was followed by Jack Murray, a second-year veterinary student from Pittsburgh. He won $1,000 for the Murray Kennel Co. and its space-saving dog crate that easily collapses and folds up against a wall like a Murphy bed. He plans to donate 10% of the revenue from each crate sold to Purina's Purple Leash Project, which supports pet-friendly domestic violence shelters.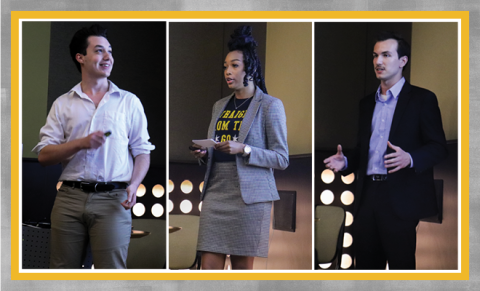 Raven Smith, of Chicago, who is pursuing a degree in textile and apparel management (TAM), won $750 for Straight From the Go, a mentorship program that holds mental health and career exploration initiatives in urban areas to inspire youth. In addition, the judges awarded $700 to information technology major Jacob Woods for DiscovAR, which uses augmented reality curriculum and technologies to make digital education more engaging and immersive.
"Social entrepreneurship opens new avenues for Mizzou students to pursue their ideas," said Greg Bier, MU's executive director of entrepreneurship programs. "So many of today's students are involved in social issues. 4impact gives them the opportunity to connect their startups with solutions to address challenges in their communities."
Other 4impact participants who won funding were Blaise Ebisch, an economics major whose team is launching IndependUS, a political discourse online platform that verifies users and information before it's posted; TAM students Emily Treadway, Natalie Pine and Sydney Williams, whose fashion sustainability club will volunteer in the community and hold events to reduce textile waste and promote responsible consumption; and agriculture majors Larna Schnitker and Michael Fidler, whose company Amp'd Up Ag is helping family farms improve soil and plant health for increased profits.
This year's 4impact judges were Bier; Brett Calhoun, director of operations at Scale, a Columbia-based venture studio and accelerator fund; Caleb Heinzman, founder and CEO of PitaTech, a legal and financial technology company; Jacqueline Skirvin, production coach, Veteran United Home Loans; and Gwen Gray, MU business, economics and entrepreneurship librarian.
"I never fail to be impressed by the creativity of students and their willingness to stand up in front of people and be judged," Gray said. "That's hard at any age. Kudos to CEO, Aaron and everyone who organized and participated in the event."
Meet the students who created 4impact.