Image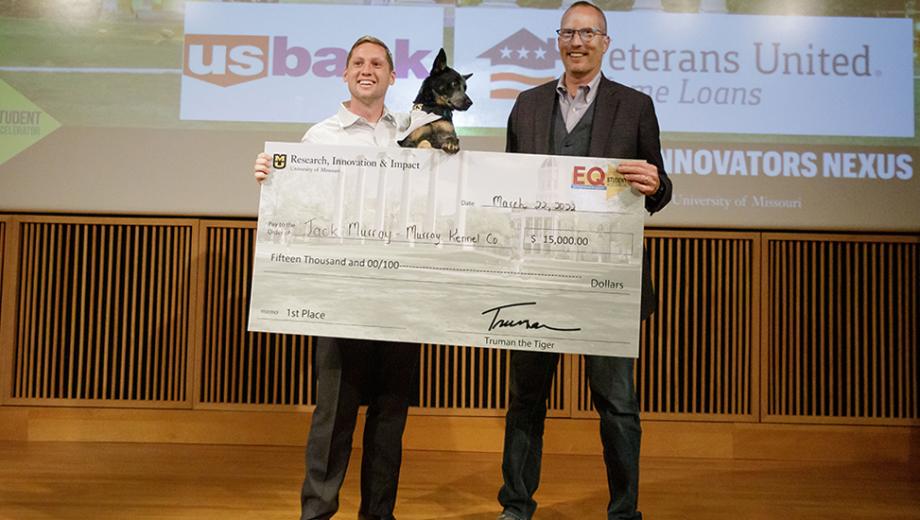 Mavis Chan contributed to this story. Photos by Allyson Imhoff and Nathan Parker.
In the future, consumers may be able to purchase a space-saving dog crate, better-fitting uniforms and new party games thanks to a $30,000 prize pool awarded to three University of Missouri student ventures during the final Entrepreneur Quest (EQ) pitch competition March 22 at the Bond Life Sciences Center.
This year's "top dog" was Jack Murray, a second-year veterinary student from Pittsburgh. Murray, who won $15,000 for the Murray Kennel Co., designed a dog crate that easily collapses and folds up against a wall like a Murphy bed. He filed a provisional patent with support from his EQ mentors and plans to donate 10% of the revenue from each crate sold to Purina's Purple Leash Project, which supports pet-friendly domestic violence shelters.
"EQ has really given me all of the connections I've needed," Murray said. "It has been phenomenal, and it's really expedited this process."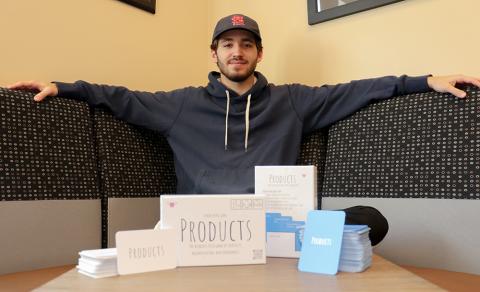 Nine student teams representing seven MU colleges and schools had seven minutes to pitch their ventures and five minutes to answer questions from a panel of judges. Each pitch was comprehensive and included the venture's selling points, business plan, market strategies and more.

Sponsored by U.S. Bank and Veterans United Foundation, EQ aims to "support the next generation of job creators," said Greg Bier, MU executive director of entrepreneurship programs. 
Aaron Heienickle, a sophomore studying marketing and computer science from Weldon Spring, Missouri, won $10,000 for Skypig, a company that sells entrepreneurship games. During his presentation, Heienickle said games with a "doing business" bent like Monopoly are too long and complex for impromptu play. Players pitch random, and often outrageous, products to an "investor" in his easy-to-learn card game.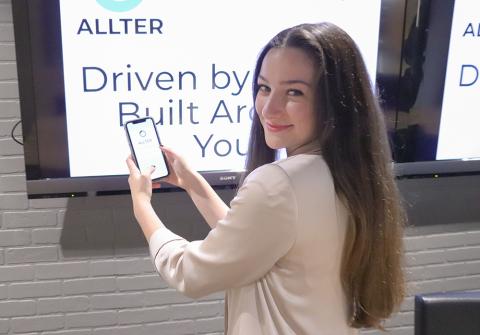 Michelle Gershkovich, a junior studying textile and apparel management from Northbrook, Illinois, won $5,000. She said during her pitch that 70% of online apparel returns are due to fit issues. Her company, ALLTER, uses an app and machine learning to recommend more accurate clothing sizes to shoppers based on body measurements, preferred fit, customer reviews and other data. Gershkovich is currently working with uniform manufacturers to cut returns costs.
During the fall semester, EQ received 48 applications from MU student teams. The top 15 teams took part in an elevator pitch competition in November. Finalists from that event participated in EQ's extensive eight-week training program, which included workshops and mentoring from successful entrepreneurs and investors. They also took advantage of resources at the MU Libraries, Entrepreneurship Legal Clinic and Griggs Innovators Nexus.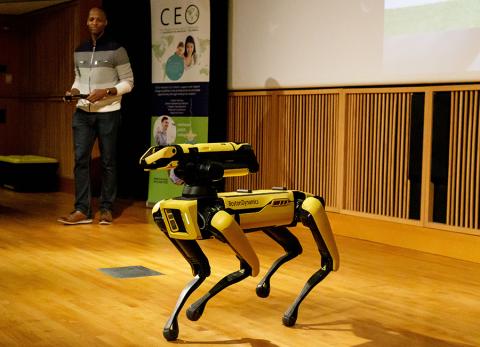 Those serving as EQ judges this year were: Kathleen Bruegenhemke, chief risk and operations officer, Hawthorn Bank; Brant Bukowsky, co-founder of Veterans United Home Loans; Robert Griggs, founder and president, Trinity Products; Arpita Kumar, global vice president for post-merger integration and divestiture, SAP; Bill Little, former president of Quam-Nichols Co; and Mindy McCubbin, founder of Truman Wealth Advisors.
"We try to get students comfortable telling their stories," Bier said. "You're not just selling a business model; you're selling yourself as the right entrepreneur at the right time at the right place."
 
Promotional posters
Strategic communications major Allyson Imhoff created posters promoting the EQ finalists and their ventures: Michelle Gershkovich, textile and apparel management; Chris Floyd, general studies; Reagan Van Eaton, journalism; Clay Van Eaton, business; Jack Murray, veterinary medicine; Zeph France, business; Georgiana Gnibus, law; Aaron Heienickle, business; Noah Strodtman, business; Sam O'Neill, engineering; and Kobe Messick, business.