Image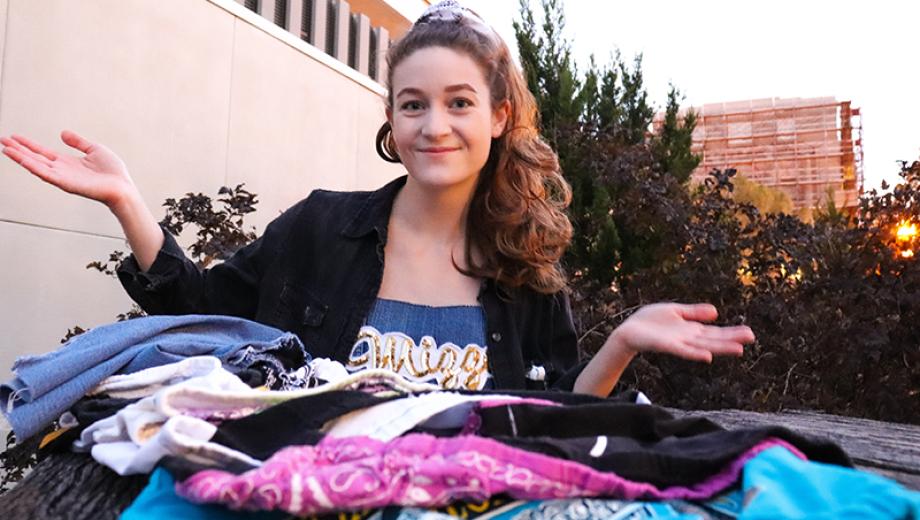 When Mizzou law student Georgiana Gnibus started her company, Rad By Design, her friends joked that she was building a "tube top empire." Now after selling an expanded inventory of hundreds of original designs to both men and women via Instagram and winning $2,050 in funding, Gnibus has opened a brick-and-mortar store in the MU Student Center.
Gnibus participated in MU's 4impact social entrepreneurship program sponsored by Veterans United Home Loans for University of Missouri System students. Members of Mizzou's chapter of the Collegiate Entrepreneurs' Organization (CEO) launched and ran the program, one of several based at the Griggs Innovators Nexus at MU.
"CEO wanted to support student entrepreneurs interested in starting ventures with a social good mission," said Greg Bier, executive director of entrepreneurship programs at MU. "Sometimes students see big business as simply profit-driven, when in fact, the more successful you are, the larger your positive impact can be on society."
After participating in workshops and receiving coaching during the spring semester, eight 4impact finalists from MU, UMKC and Missouri S&T competed in a pitch event for up to $5,000 in funding.
Gnibus, who specializes in transforming used clothing and textiles into unique pieces, started her business several years ago to unite her creativity with a passion for sustainability. She said during her pitch that the fashion industry is one of the most polluting industries in the world.
"Upcycling is when you take something old, damaged or discarded and you make something completely new and original," Gnibus said. "I love doing this because not only am I reducing textile waste and making something one-of-a-kind, but I'm always putting monetary gains back into the community."
UMKC business major Kyla McAuliffe, CEO and founder of Dart, also won $2,050 for her company, which works with community service agencies to address transportation inequities. Dart provides "upward mobility through personal mobility" by converting used bikes into electric commuter bikes. Twelve percent of profits will be set aside to provide bikes at a reduced rate to those who need them most.
"I founded this startup after discovering that one in 10 Kansas Citians don't have a car or a reliable way to get to work," McAuliffe said. "The Dart e-bike is an affordable solution with a powerful battery and a pedal-assisted motor."
Other 4impact participants who won funding were Mohamud Abdi, a UMKC student whose Subi mobile app enables users to coordinate sports activities; MU MBA student Yuhui (Jessie) Liu, whose company Millsvan is producing HydroUnit, a series of do-it-yourself products that allow consumers to grow their own flowers and vegetables hydroponically; and S&T engineering student August Bindbeutel, who pitched Skate St. Louis, an inline skate rental company for those interested in healthy outdoor activities.
Volunteer 4impact judges were JD Messenger, founder of The Messenger Institute; Loreli Wilson, director of inclusion and social impact programs at Veterans United Home Loans; Jeff Wasson, co-founder and CEO of Voice Activated Living; Adonica Coleman, owner of A2D Events and VenueLive Solutions; and Jessie Yankee, director of Missouri Women's Business Center.
"I think this is a great endeavor," Wasson said. "It takes great courage to put together a plan and pitch. Entrepreneurship is an exercise in breaking down barriers, moving forward, believing in yourself and getting your product to market."