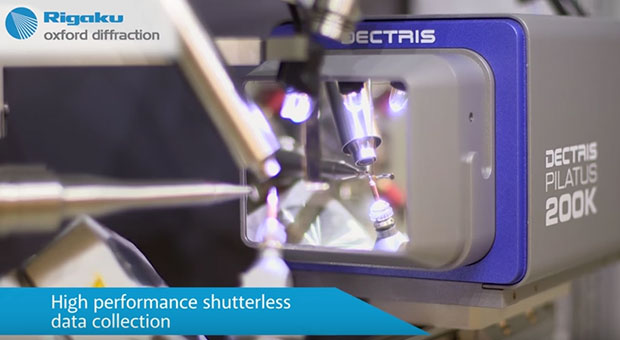 If you are among the growing number of researchers who understand the important link between macromolecular structure and function, you may have already wondered how to get structural information on your protein of interest and which method is best for your needs. X-ray crystallography and NMR have both undergone rapid technical advances over the last decade, but structure determination still generally involves collaboration with a trained crystallographer or NMR spectroscopist.
We are here to help with Crystallography, Dynamic Light Scattering, NMR, and Peptide Synthesis. We offer all of the services necessary to take your project from start to finish. To get started, contact us or learn more about the services below:
Crystallography
Dynamic Light Scattering
NMR
Peptide Synthesis
Custom LC-MS
New x-ray system
We recently installed a Rigaku XtaLAB SuperNova, which includes a high-flux, low maintenance microfocus sealed tube. The system is a compact, yet full-featured and is the ideal diffractometer for crystallography research laboratories.
New peptide synthesizer
Our Peptide Synthesis Core includes a new Advanced ChemTech Tetras Peptide Synthesizer. The new synthesizer is capable of performing independent peptide synthesis with variable scales, activations, lengths, and sequences.
Molecular Interactions in the News
At the Forefront — Biochemistry senior class becomes first undergraduate teaching lab to use state-of-the-art beamline at Lawrence Berkeley National Laboratory for X-ray crystallography.
Navigating New Waters — New software developed in core-affiliated faculty member Steve Van Doren's lab could greatly enhance image, video analyses on many platforms.
442 Bond Life Sciences Center