The mission of the CIC Facility supply center is to offer convenience and reagent cost savings to campus investigators. A limited number of popular products needed for tissue culture, Western blotting and protein gel electrophoresis are kept in stock and can be picked up during open hours. These in-stock products are essential for tissue culture projects, protein work and flow cytometry experiments. Items not kept in stock and/or shown on the price list can be ordered from participating vendors. Orders are placed daily from most vendors and an email notification is sent out when items arrive.
In addition to convenience and discount prices, the investigator can also take advantage of waived fees for shipping and handling, fuel surcharges, dry ice and hazardous fees in most cases. For those vendors that don't offer waived shipping charges, the supply center manager will communicate details about combining orders to reduce shipping fees when possible. Additional savings are possible by using vendor promotion and special codes provided that this information is included on the order form at the time the order form is submitted.
Place orders
Submission of a completed CIC order form is required before in-stock items can be picked up, or specialty items not kept in stock can be ordered. Fields on the order form marked with an asterisk before the heading (*) are mandatory, and the order will be kept on hold until all of this information is provided. Alternatively, the order form as a Word document can be requested at ciccore@missouri.edu.
Orders are placed the same day when completed order forms are received by 12 p.m., or the next day if received after 12 p.m. Items are ordered daily from most vendors. The supply center manager tracks the status of orders on a regular basis and communicates frequently with the investigators when the arrival of items is delayed.
Order forms can be dropped off at M324 Medical Sciences Building or emailed to ciccore@missouri.edu. The supply center manager will provide verbal acknowledgement or send an email to confirm that the order has been received. If you have any questions about how to place an order, or questions about a specific vendor, you can contact the supply center manager at 573-884-7315 or at cicccore@missouri.edu.
Pick up orders
The supply center manager notifies investigators by email when at least one item is available to pick up, including both in-stock and special-order items. If you would like to verify that the desired quantity of an in-stock item is available, you can inquire beforehand. If you would like to pick up all of the items on the order at the same time, you can coordinate this with the supply center manager at ciccore@missouri.edu or at 573-884-7315.
In response to the COVID pandemic, the supply center doors remain closed at all times. In addition, entrances into the medical school remain locked during normal business hours and require a key card for entry. If you have access to the medical school, you can pick up orders at M324 MSB. If you're coming from outside of the medical school, you can make arrangements with the supply center manager to pick up the items at one of the three possible locations shown on the map below. All three locations offer contact-free pick up analogous to curbside delivery. All three locations can be accessed by foot, and two of these locations are convenient if coming by car.
 
Image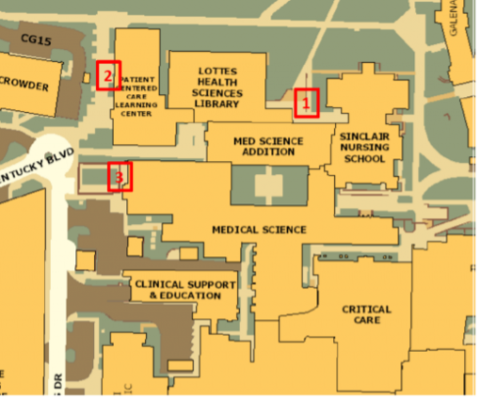 Location 1: This entrance is near the J. Otto Lottes Health Sciences Library, adjacent to the construction site for the nursing school. This location is not accessible by car.
Location 2: This is the front entrance into the Patient Centered-Care Learning Center (PCCLC) building on Kentucky Avenue. There is a circular drive in front of the PCCLC building, and you can pick up your items at the doors leading into the building.
Location 3: This location is at the west entrance into the School of Medicine. There is temporary parking on the west side of the medical school, off Dean's Drive and across from the Tiger Avenue Parking Structure. You can leave your car for up to 15 minutes and meet the supply center manager at the doors leading into the building.
Participating vendors and discounts
The supply center manager places orders daily from participating vendors. A small number of items are kept in stock, and any other item offered in the vendor catalog can be procured by special order. The percentage discount varies by product and vendor, and most vendors waive shipping and handling fees, fuel surcharges, dry ice and hazardous fees. A small handling fee ($5-10) is applied in certain cases to cover administrative costs.
The participating vendors include:
ATCC — ATCC offers a wide range of primary cells, cell lines, microorganisms, culture reagents, cell proliferation assay kits, nucleic acids and toxins, and quality control strains. They also provide services such as mycoplasma testing and cell authentication. MU investigators receive the non-profit price, and shipping fees are typically around $70. Shipping charges are split between investigators when possible.

BioLegend — BioLegend specializes in antibodies, recombinant proteins/cytokines/growth factors, apoptosis detection and viability reagents, buffers and solutions, magnetic cell separation products, ELISAs, and multiplex assays. Shipping charges are waived only when a minimum dollar amount is reached; otherwise the charges can be split among investigators when possible.

Bio-Rad — A wide variety of products for gel electrophoresis and Western blotting, protein quantitation and purification, cell biology, and genomics are available. Discounts are applied for many popular products, and shipping and other fees are waived.

Cell Signaling Technology (CST) — CST specializes in antibodies, cytokines, ELISA and cellular assay kits, proteomics analysis products, WB and IP and ChIP reagents, activators and inhibitors, and buffers and dyes. A 5% discount applies to all products, and shipping fees are waived.

Fisher — Fisher Scientific offers a wide range of laboratory equipment, consumables, and chemicals used in scientific research, healthcare, safety, and education. Fisher offers substantial discounts to MU investigators on a wide variety of products, and shipping fees are waived. CIC customers receive an additional 5% discount off the eProcurement price.

Leinco Technologies, Inc. — Leinco Technologies offers antibodies, second step reagents, recombinant proteins, ELISA kits, and other life sciences products. Variable discounts are available but shipping fees are applied.

MilliporeSigma — MilliporeSigma offers a diversity of life science products in the areas of biology, chemistry, cell culture, labware, and other products. A limited selection of animal sera are kept in stock at substantially reduced prices. Shipping and handling, and all other fees are waived.

ThermoFisher Scientific — ThermoFisher Scientific product areas encompass consumables, lab equipment, lab plastic ware, chemicals, molecular and protein biology reagents, and many others. Discounts are applied on a select group of products, and shipping and other fees are waived.

USA Scientific — Products offered by USA Scientific include laboratory plastics, equipment, and accessories. These include pipettes and tips, tubes, cell culture supplies, gloves, storage supplies, and equipment. Discounts are available on some products, and shipping fees are waived.

Tissue culture products and sera
A selection of the most popular tissue culture products is kept in stock, and specialty products are ordered on a daily basis. These include basal media, supplements, trypsin, buffers, and sterile consumables. A small number of fetal bovine sera products are offered at a substantially lower price. Depending on the product, the sera has been tested in cell culture and/or hybridomas, or insect cell cultures. A few of the products are heat-inactivated, and the source of the serum is either US origin or non-US origin but USDA approved. A serum replacement product with a more defined composition is also available.
Protein and western blotting reagents
A small number of products essential for protein gel electrophoresis and Western blotting are kept in stock. These products include pre-cast gels, acrylamide solutions and polymerizing reagents, buffers, membranes and filter, western blot detection reagents, supplies to prepare gels, and prestained protein molecular weight markers. Many other products are available by special order.
Antibodies
Antibody reagents play an important role in many research projects. Common applications include flow cytometry, ELISAs, immunofluorescence, immunohistochemistry, immunoprecipitation, proteomics, and western blot analysis. Purified antibodies are often available in unconjugated form, or conjugated with an enzyme or fluorochrome. These products can be purchased through most of the CIC participating vendors, including Bio-Rad, BioLegend, CST, Fisher, Leinco, MilliporeSigma, and ThermoFisher.