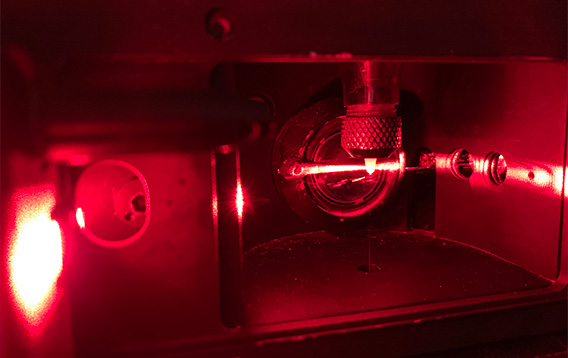 Supply Center
The Supply Center offers convenience and cost savings on a wide range of tissue culture media, supplements, lab plastic ware, gel electrophoresis and Western blot reagents, buffers, chemicals, antibodies and many other products. In-stock and special-order items are available from participating vendors, including ATCC, BioLegend, Bio-Rad, Cell Signaling Technology, Fisher Scientific, Leinco, MilliporeSigma, ThermoFisher Scientific and USA Scientific. Discounts are available on many products in addition to reduced or waived shipping, handling and hazardous materials fees. In-stock items can be picked up during the open supply center hours and other items are ordered daily.
Tissue Culture
The CIC tissue culture lab provides a variety of essential services, such as the preparation of normal and tumor cells for in vivo and in vitro experiments, mycoplasma testing and the revival and preparation of cell lines and hybridomas for long term storage in liquid nitrogen. Experiments are custom designed to meet the needs of the researcher and new approaches and techniques are open for discussion and consideration. The CIC can also produce highly concentrated (0.5 to 1.5 mg/ml) monoclonal antibody preparations free of serum and circulating host immunoglobulins.
Flow Cytometry
The flow cytometry facility added a spectral flow analyzer and a full-spectrum cell sorter in the spring of 2021. Spectral cytometry takes advantage of the differences in full emission spectra collected across all lasers, enabling discrimination between similar fluorophores. This technology results in unparalleled fluorochrome choices, panel flexibility and easy setup.
The core now has three benchtop analyzers capable of detecting up to 48 colors. The analyzers include a Cytek Aurora spectral analyzer, a BD LSRFortessa X-20 and a Beckman Coulter CyAn ADP. The newest sorter, the ThermoFisher Bigfoot full-spectrum sorter, detects up to 48 colors. This instrument, as well as the Beckman Coulter MoFlo XDP, are optimal for sorting fragile cells and can sort up to 70,000 events per second. The Bigfoot sorter provides standard 6-way sorting and accommodates up to 1536 well plates.
Seahorse Analyzer
The Seahorse XFe96 analyzer simultaneously measures the two main pathways of cellular energy – oxygen consumption rate (mitochondrial respiration) and extracellular acidification rate (glycolysis). These measurements provide information about the altered mitochondrial function frequently observed during the aging process and in disease and pathological states. Experiments are carried out in a microplate format in rapid, real-time using label-free technology and they can provide insight about energy demand and substrate availability. Assays can be performed with adherent cells, suspension cells, isolated mitochondria, C. elegans, zebrafish and yeast. Four drug injection ports are available per well for the addition of inhibitors, stimulants, substrates and compounds.

Director
Susan Rottinghaus
M324 Medical Sciences Building, One Hospital Drive