Image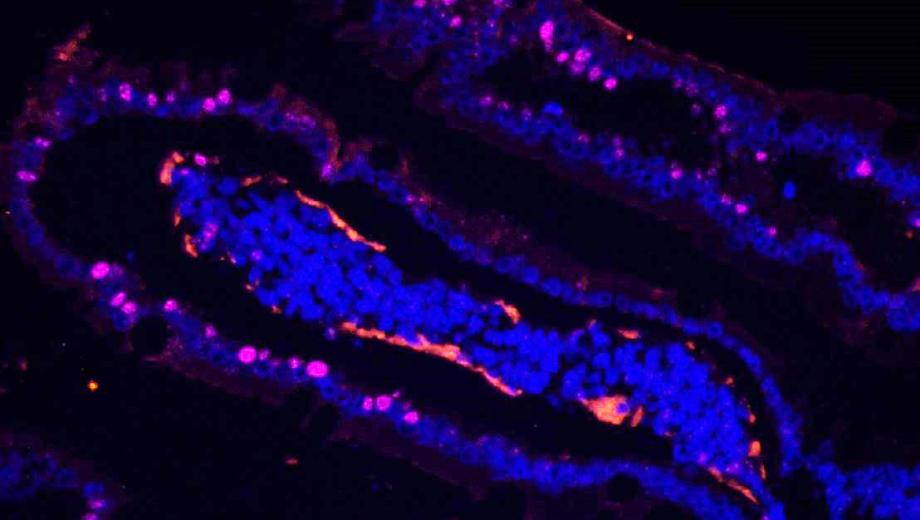 A team of 10 highly trained experts at the University of Missouri Laboratory for Infectious Disease Research (LIDR) supports scientists who advance our understanding, diagnosis and treatment of infectious diseases caused by viral and bacterial pathogens.
One of 16 advanced technology core facilities on MU's campus, LIDR is a Regional Biocontainment Laboratory supported by the National Institute of Allergy and Infectious Diseases to study biodefense and emerging infectious disease agents and to assist national, state and local public health efforts.
"This facility was built to meet two separate standards," LIDR Director Paul Anderson said. "One is the safety standard to work with Risk Group 3 agents, and the other is the security standard to possess biologicals, toxins and pathogens that are deemed by the Department of Health and Human Services to pose significant risks to the economy or to human health."
Which diseases can researchers study at LIDR?

A variety of pathogens are studied at LIDR, including those that cause influenza, COVID-19, anthrax, Q Fever, the plague and arboviruses transmitted by ticks and other arthropods. The goal is to develop drugs, treatments and vaccines to combat these microorganisms.
How safe is the LIDR building?

Some of the organisms studied within LIDR are dangerous if not handled properly, which means that access to the facility is strictly controlled and requires researchers to receive ongoing comprehensive training in handling biohazards.
The building, which opened in 2010, was designed to exceed stringent federal safety and security standards to protect researchers and the community. It is equipped with specialized laboratories that support research at Biosafety Levels 2 and 3. Each level has specific requirements for the containment of biological agents determined by the severity of disease, transmissibility, route of exposure and other factors. Biosafety Level 3 microbes can cause serious or lethal disease through respiratory transmission, but they generally have treatment options. Only a handful of labs worldwide conduct Biosafety Level 4 research on pathogens that are frequently fatal and lack therapeutics or vaccines, such as Ebola and Marburg viruses.
What distinguishes LIDR from other labs?

LIDR is the only place on campus where researchers can study fully virulent pathogens. In fact, it is one of only a half dozen labs in the country where researchers can study pathogens by their natural route of infection. For respiratory diseases, that means inhaling an agent, and for arthropod-borne diseases, it means transmission via bites from infected mosquitos, fleas or ticks.
LIDR offers custom-designed aerosol exposure services through its aerobiology core; flow cytometry, cell sorting and fluorescence microscopy services through its immunology core; and a state-of-the-art microbiology core for molecular biology, cell biology and microbiology research under Biosafety Levels 2 and 3 conditions.
"We have live imaging capabilities and an aerobiology core, which makes this facility unique," Anderson said. "We can create and deliver infectious aerosols, both pathogens and therapeutics. Many times, there are other factors in the infection process that can't be duplicated with a needle. Not only do we have the equipment to do this kind of work, but it takes a fair amount of expertise as well."
How are scientists using LIDR services in their research?
A few examples:
Professor Henry Wan, virologist and director of the NextGen Center for Influenza and Emerging Infectious Diseases, is studying zoonotic pathogens, especially influenza A viruses.

Jerod Skyberg, associate professor in veterinary pathobiology, is focused on the host response to gram-negative bacterial pathogens

Brucella

and

E. coli.

Deborah Anderson, professor in veterinary pathobiology, is interested in understanding underlying host pathogen interactions that contribute to the extreme virulence of the 

Y. pestis

 bacterium and the worldwide persistence of the plague.

Alexander Franz, associate professor in veterinary pathobiology, focuses on the molecular interactions of arthropod-borne viruses like Zika carried by mosquitos.

Brett Ulery, associate professor of chemical engineering, is investigating a novel vaccine-generating platform that would use self-assembling molecules or micelles.  

David Robertson, executive director of the MU Research Reactor, is researching inhaled radiotherapeutics to treat chronic pulmonary diseases.

Elizabeth Bryda, professor of veterinary pathobiology and director of the Rat Resource and Research Center and Animal Modeling Core, developed a transgenic rat model for COVID-19 studies.

LIDR staff also work with external researchers and commercial entities such as MRIGlobal, doing everything from testing air purification products to examining how COVID-19 affects kidney and lung tissues.
How do researchers request LIDR services?

For more information about conducting research at LIDR, please contact Paul Anderson at 573-884-3808 or email him at lidr@missouri.edu. Research support is available on a fee-for-service basis, in collaboration with a LIDR researcher, or as a subcontract to an existing grant. Researchers who are interested in conducting ongoing research at LIDR and need independent access to the facility should contact Anderson to arrange training.