Image
The University of Missouri is one of only six universities in the country that offers the Entrepreneurship Bootcamp for Veterans (EBV) program, which provides post-9/11 veterans with no-cost entrepreneurial training and small business management skills. 
"This has been invaluable to me and a great use of my time to be able to finish up last-minute ideas before I launch my business," said Air Force veteran Theresa Irving, owner of Duneberry Farms in Silver Lake, Michigan. "What it did was help me develop more ideas for revenue streams and a better network of support."
Irving, whose 67-acre farm includes a disc golf course and an area where people can pick blueberries and strawberries, was one of 19 veterans from across the country who completed a 30-day online business course before spending a week this summer on the MU campus for the residency portion of the program. Participants are now in the third phase of EBV, which includes a year of mentoring and other support. 
The national EBV program, headquartered at the D'Aniello Institute for Veterans and Military Families (IVMF) at Syracuse University, relies on its consortium of university partners to provide a rigorous and intense curriculum each year. The Veterans United (VU) Foundation has sponsored EBV at MU since 2015 when the university joined the consortium. 
"One thing that makes Mizzou's program stand out is that we involve our entire mid-Missouri entrepreneurship ecosystem," said Greg Bier, EBV program director. "We brought in 20 experts from the community who are successful in their fields. This enables them to share practical tools and take a deep dive when answering questions and helping participants research and solve problems."
Successful entrepreneurs understand that they cannot go it alone, Bier said, adding that starting and sustaining a new business is a "team sport." The most important part of the EBV experience is the lasting bond that each group forms by the end of their residency.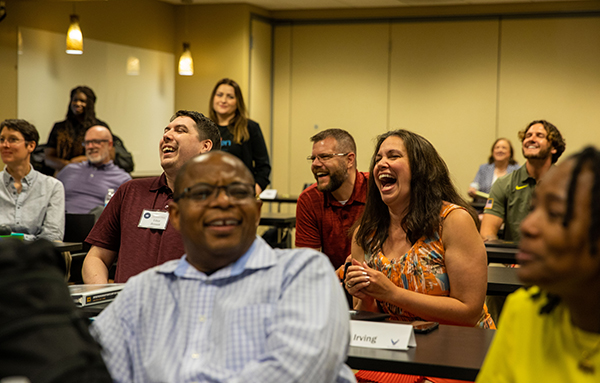 Army veteran Akosua Osei said her classmates were good sounding boards for her business, a do-it-yourself classroom and event space called Baltimore Brainery.
"People were engaging, asked me some hard questions and gave me things to think about," she said. 
Misty Fox, IVMF director of entrepreneurship and small business, said EBV's more than 2,200 graduates have founded many successful companies, including some on the Inc. 5000 list of America's fastest-growing companies.
"We know veteran entrepreneurs are more successful than their civilian counterparts," Fox said. "But I think the best thing about it is that they get to continue serving their communities."
Former Army special operations helicopter pilot Jason Nazarenko said EBV is helping him refine his business plan for a taproom and pizzeria in his hometown of Cotter, Arkansas. The 900-person town, known for its trout fishing and scenery, had no nightlife options for visitors.
"Everything I do is to bring value to the town," said Nazarenko, who also has renovated numerous vacation rentals in the area. "I need to succeed, not just for myself, but for the town. I knew EBV could give me the skills I needed going forward."  
Consistently ranked as a military friendly school, MU has a long history of providing services and resources like EBV aimed at improving the lives of military students and veterans. 
"We continue developing new ways to support veteran entrepreneurs," Bier said. "Additional funding from the VU Foundation has made it possible this year for us to provide microgrants of up to $2,500 to EBV graduates. They will be awarded through a competitive process and are designed to cover website design, marketing, legal fees, training and other venture-creation activities."
View a list of companies owned by veterans who were part of Mizzou's EBV program.