Image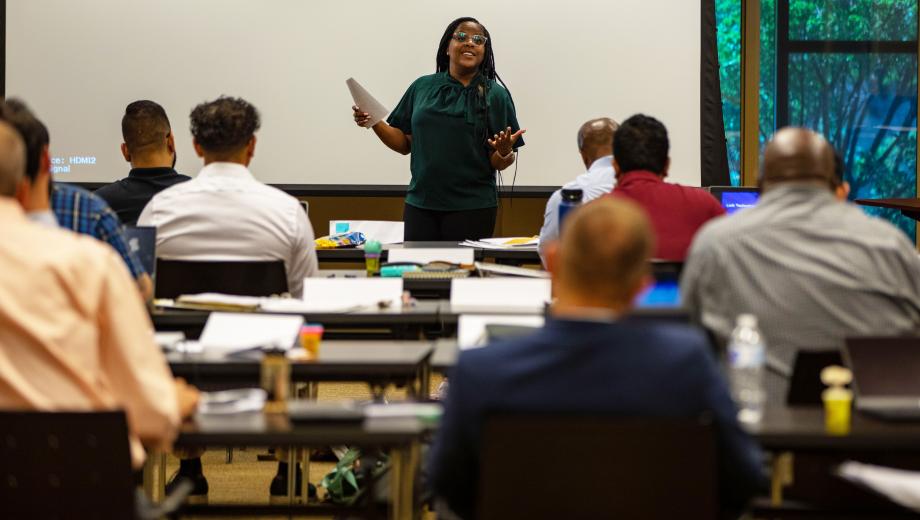 Story by: Sherri Helm
"I've learned so much!" That was the first remark that Brian Wood, a veteran of the Marine Corps from Belleville, Illinois, said when asked about his experience in Mizzou's Entrepreneurship Bootcamp for Veterans (EBV) held August 13-20. "The connections we make benefit all of us. Seeing the passion everyone has for their business is amazing," he said.
This year, MU is one of seven universities in the country offering EBV programs that teach participants key concepts of business ownership through workshops and lessons from entrepreneurial leaders and local partners. EBV is part of a national initiative that the Institute for Veterans and Military Families oversees at Syracuse University. 
Greg Bier, executive director of entrepreneurship programs at MU, said EBV is unique because it leverages the skills, resources and infrastructure of higher education to offer entrepreneurship training and small business management to veterans free of charge. Veterans United Foundation based in Columbia, Missouri, has generously funded and supported MU's EBV program since its inception in 2015. 
"This is the sixth year we've been able to host veterans from around the country for this on-campus training," Bier said. "The information and networking opportunities we provide for them supports their dream of launching and growing a small business."
Kyle Cox, an Army veteran from Cabot, Arkansas, and founder of Cox Custom Woodworks, a family-run business that specializes in creating concealment furniture like gun cases, said the three-phase program thoroughly exceeded his expectations. 
EBV participants complete a 30-day, online course in business fundamentals and research before attending a nine-day, intense residency like the one MU hosts. Phase three of the program provides the veterans with ongoing technical assistance from faculty experts and other partners.
Typically, Mizzou's program teaches two dozen veterans, but this year's group of 10 was smaller due to the COVID-19 pandemic. 
"This program gives you the confidence to just go with it. It validates your business idea as viable," said Orpheus Kennedy Jr., an Army veteran from Brandywine, Maryland. "It answers questions you didn't even know to ask."
Veterans who participate in EBV gain knowledge in diverse areas, such as legal issues in small business, understanding markets, validating business ideas and financing options. On the final day of the residency, participants pitch their business idea to each other and offer next steps each person can take to move forward.
"The success of this program is due to the commitment of MU's entrepreneurship staff and the excitement and determination of the veterans," said Bill Turpin, associate vice chancellor of innovation, entrepreneurship and commercialization. "Veterans make excellent entrepreneurs because of the skills they've learned in the military. They are disciplined, hardworking and their resiliency is good for business growth."  
When asked what she appreciated most about being in Columbia with fellow veterans, Akea Collins, an Army veteran from Hollandale, Mississippi, said, "We each know what the other has been through. We're battle buddies for life."