Image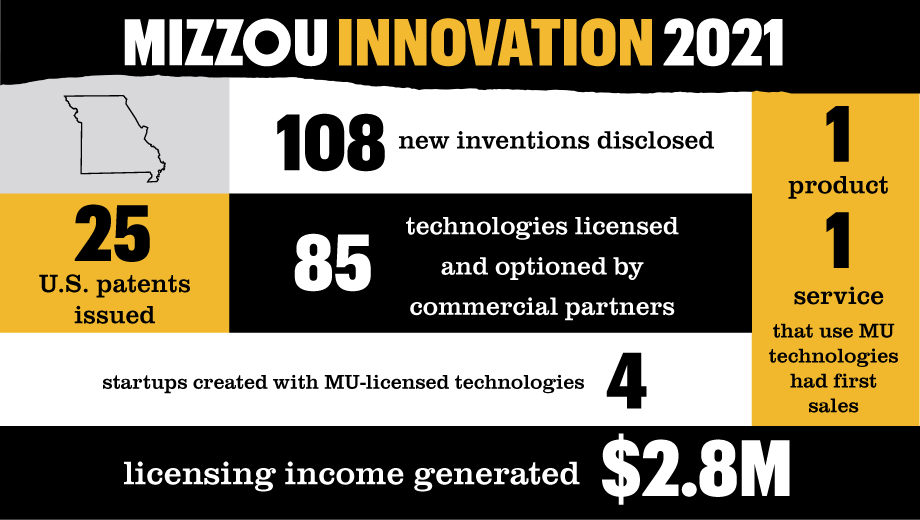 In 2021, University of Missouri researchers increased oil content in plants for food and energy, created software to assess speech and swallowing, developed gene therapies for muscular dystrophies, and invented more responsive sensors for military surveillance and medical diagnostics.
Mizzou's faculty and staff make discoveries and generate innovations in a myriad of areas because they have access to a unique combination of resources and disciplines at Missouri's largest public research university. 
"It's not uncommon for clinicians from the Schools of Medicine, Health Professions and Nursing to collaborate with our veterinarians, engineers, physicists, animal and plant scientists," said Lisa Lorenzen, assistant vice chancellor for technology advancement. "When researchers with different viewpoints and educational backgrounds work together, they often generate new knowledge and original ideas."
The Technology Advancement office works with researchers who think they have an innovation with commercial potential. Last year, they disclosed 108 inventions, which Lorenzen and her team evaluated for novelty, utility and market potential after discussions with contributors and an analysis of scientific and patent literature, potential competitors and other factors.
"This information and technical expertise from MU inventors guide our marketing and intellectual property strategies," Lorenzen said. "An invention protected by a patent, copyright or trademark is an incentive for a company to invest in commercializing it."
Lorenzen said intellectual property also can lead to successful grant proposals, new funding opportunities and partnerships that increase the odds that the research will result in a product or service. 
In 2021, the university was granted 25 patents for devices, tools, therapeutics and other technologies. Commercial partners licensed and optioned 85 different innovations, which generated $2.8 million in revenue for Mizzou.
"We look for companies with the expertise, resources and business networks to bring MU inventions to market," Lorenzen said. "Our goal is to leverage the university's discoveries so our researchers can have a greater impact on the world."
Mizzou innovation milestones in 2021