Image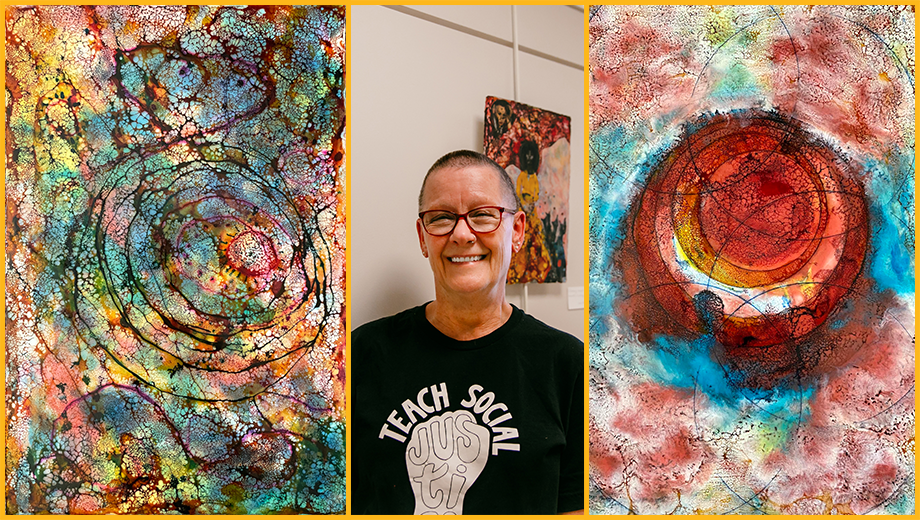 Linda Helmick's latest project is an act of love.
A University of Missouri assistant professor of art education, Helmick's newest work is a series of 12 paintings inspired by the sacrifices of Friedl Dicker-Brandeis, an Austrian artist who created permanent pieces of beauty and taught others to do the same, even while facing the finality of one of history's most horrific atrocities.
Brandeis was murdered in October 1944 by the Nazis at the Auschwitz-Birkenau extermination camp. But before being transported to Auschwitz, Brandeis secretly taught art classes for nearly two years while imprisoned in a ghetto by the German SS to about 600 children (almost all of whom also were killed in extermination camps).
In the last months of her life, Brandeis entrusted about 5,000 of these children's drawings to a local tutor, and many of the works survived and now are part of the Jewish Museum in Prague. Brandeis' work also endured the Holocaust, including paintings created before World War II, with about 130 pieces in the collection of the Simon Wiesenthal Center in Los Angeles.
In June 2022, using a Research Council Grant, Helmick visited Prague and the ghetto at Terezin, in the present-day Czech Republic, where Brandeis was banished in December 1942, to research the reminders of Brandeis' artistic sacrifices and see the works Brandeis helped create.
"I have found when we attend to an experience — in this case, a research experience — all thought, knowledge and understanding begins from our relational embedded situatedness in the moment," Helmick said. "In other words, we cannot remove the context from the artifacts without losing meaning and empathy."
Helmick's resulting research project, "The pedagogic legacy of Friedl Dicker-Brandeis," was unveiled in August at Serendipity Salon & Gallery in Columbia as the show "A Legacy of Love."
"During my visual exploration of Brandeis, I found love," Helmick said. "Brandeis had a love for art and teaching, and she had a love for children that enabled her to defy the confines of the camp. When I walked where she walked, stood where she stood and taught, and viewed the artwork the children made under those circumstances, it was obvious to me that love was in the room with them. Love was at the heart of their creations.
"Friedl, through her experience as an artist and art teacher, saw firsthand that meaningful creative artmaking could see them through. It could lift these young people, if only for moments at a time, out of the horrific circumstances they found themselves in. In an interview, one of the children she taught said, 'Everybody put us in boxes; [Brandeis] took us out of them.' These paintings are the result of my creative exploration of the extraordinary love she gave to this work. If teaching art with love and passion could do that then, it certainly can do that now."
Arts-based research
Helmick was first introduced to Brandeis and her story while working on her Ph.D. dissertation research, which was focused on blending art education with tenets of art therapy to provide students with a more therapeutic space in the classroom and the community.
"I was looking for a link between these concepts when I found her," said Helmick, who joined the MU faculty in 2019 in the Department of Learning, Teaching and Curriculum. "Art therapy grew out of the fields of art, art education and psychiatry; thus, it seems natural to see overlap in what art educators and art therapists do.
"Friedl was an artist and art teacher from the Bauhaus school of art in Germany and taught art to teachers and refugee children. One of her pupils was a young girl named Edith Kramer, who would later immigrate to the United States and use techniques she learned from Friedl to become a pioneer in art therapy. This connection wasn't well known and was of great interest to me. That is when I started really investigating her life and work."
Research Council Grants are funded by the Division of Research and support research, scholarship and creative activities, with a maximum funding of $15,000. Beyond travel, Helmick's grant also helped purchase art supplies and pay a stipend for Ph.D. students for a semester of assistance with the research.
In the Czech Republic, Helmick observed the everlasting beauty Brandeis helped usher into a wicked world through the paintings created by her students while also investigating a deeper understanding of Brandeis' acts and love.
"Besides her love for art and teaching, and Friedl had a love for children," Helmick said. "She wanted to help them become, dream and, most of all, survive these circumstances beyond their control. Friedl's teaching gave the children of Terezin weekly experiences with freedom and choice — elements banished from their lives by the Nazis."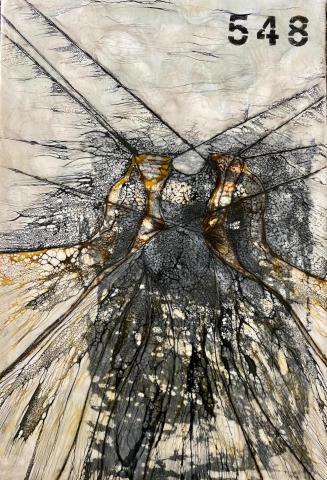 Brandeis' sacrifices at Terezin demonstrate how art therapy and art education overlap, Helmick said. The children's artwork and the survivors' remembrances show the therapeutic effects art can have on children or people of any age.
"While many artists in Nazi camps recorded the awful circumstances in which they were imprisoned, Friedl instead provided aesthetic experiences for the children in her charge," Helmick said. "She was aware that by teaching children to master art essentials through self-expression, she was creating personal space for empowerment, meaning and freedom amid dreadful oppression and daily horrors. She tapped into their dreams, memories and hopes. Today, we might refer to Friedl as a resilience tutor and even a pioneer in art therapy."
Art also was Helmick's saving grace as a child, she said, and the reason she continues to grow as an artist, researcher and teacher. As an arts-based researcher, she engages in the artistic process to understand her subjective experiences and to promote the creative experiences of others.
Making art makes meaning, Helmick said, and her most recent artwork exists as an exploration of artmaking as transformative to understand her research, teaching, herself and others. Change and transformation are interwoven concepts with art at the heart.
While she has learned more about herself through her deeper discovery of Brandeis, Helmick hopes others gain knowledge from her creative exploration of Brandeis, too.
"The experience of the Holocaust lingers in the present, reaching for us from the past, asking us to remember," Helmick said. "By doing this work, I hope to expand upon not only the work of Friedl Dicker Brandeis and her memory but also the words of Brazilian educator Paulo Freire, who wrote, 'It is impossible to teach without a forged, invented and well-thought-out capacity to love.'"
Artist Talk with Linda Helmick
Linda Helmick is presenting a research talk on "The pedagogic legacy of Friedl Dicker-Brandeis" at 3 p.m. Oct. 19 at the Bridge in Townsend Hall in the College of Education & Human Development. Her artwork from the series also is currently displayed outside of the Bridge.