Image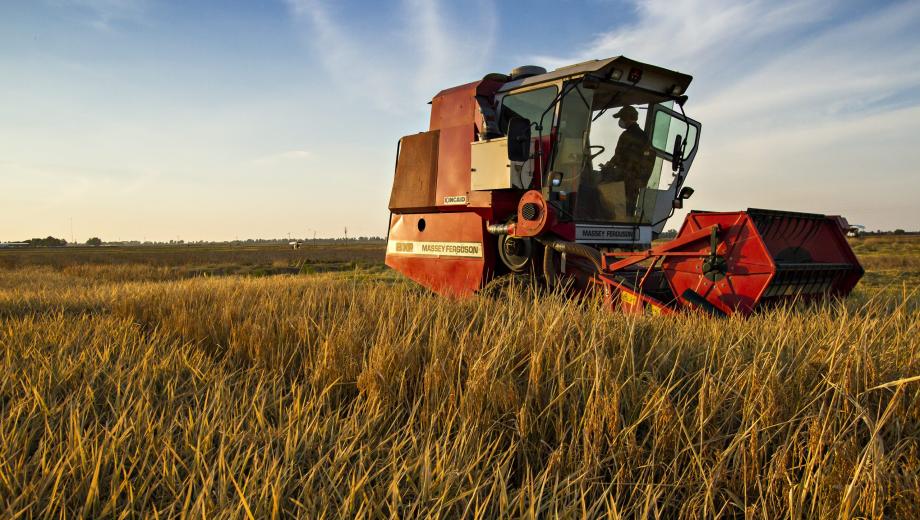 In September 2022, the University of Missouri received its largest-ever federal research, education and extension grant to help farmers adapt to the changing climate.
The $25 million U.S. Department of Agriculture (USDA) project is led by Rob Myers, an adjunct professor in the MU College of Agriculture, Food and Natural Resources and director of the MU Center for Regenerative Agriculture.
But Myers and his team of researchers weren't done. Earlier this year, the group was awarded a $10 million grant project from the National Institute of Food and Agriculture (NIFA) to support farmers and improve agriculture practices during severe weather and a warming climate.
"Farmers always face challenges in trying to keep their farms profitable and productive, especially when dealing with challenges created by more extreme weather events, whether it's prolonged droughts such as we had in 2022 or excessively wet rainfall in 2019," Myers said. "Even severe individual storms, with intense rain, strong winds or sudden temperature drops, can negatively affect both crop and livestock production efforts. Our research and education programs are aimed at helping farmers develop more resilient soils and overall farming systems that can better survive tough weather conditions while remaining profitable."
For Myers, helping farmers is a part of life, as he grew up on a family grain farm in central Illinois and is still involved in managing the farm.
"We all rely on food, so I've always felt that agricultural research is one of the most critical things we need to invest in as a society," said Myers, who also serves as regional director of extension programs for the USDA-NIFA North Central Sustainable Agriculture Research and Education (SARE) program. "Having grown up on a farm and worked with farmers all across the U.S., I've come to see that farmers have an impact well beyond just food and fiber production, but also playing an important role as stewards of our land. Everyone is affected by what happens on farms, even if farming may seem remote to those living in cities or away from farming regions. Having more regenerative, resilient and reliable farming systems are critical for the long-term sustainability of our food systems and society."
Learn more in this Q&A about the research conducted by Myers, who joined MU in 2001, and his keys to securing large grants with huge impacts.
With the Center for Regenerative Agriculture, our primary research areas are connected to soil health — both through crop and livestock systems. We're interested in how farm management practices such as cover crops and regenerative grazing can impact soil biological communities and lead to more resilient farming systems.
I have worked in sustainable agriculture and diversified cropping systems since getting my PhD 35 years ago, including serving as a national program director for sustainable agriculture with USDA. Regenerative agriculture is an outgrowth of earlier efforts on sustainable agriculture but more focused on particular outcomes, such as improved soil health, increased biodiversity, integration of crops and livestock, and building resilience to climate change. Both farmers and food companies are recognizing the importance of implementing more regenerative approaches.
We were able to put together a research, education and extension plan for the project that adhered closely to a unique mix of activities requested by USDA with these large projects related to climate-smart agriculture. We had a good plan for developing a strong impact with thousands of farms in Missouri. Perhaps most importantly, we built a strong coalition of partners with farm organizations, state agencies, nonprofits, Lincoln University and agribusiness. Taking time to work with our partners during the formulation of the grant proposal and addressing their input and concerns was critical to having a strong proposal.
I think sometimes researchers have an idea and just shop it around to various funders without considering fully what the funder is looking for. Doing a careful read of the relevant call for proposals and thinking hard about what meets the funders' goals for the program is important. If possible, talking to a relevant program officer can be very helpful for getting insights and feedback on what project approaches are likely to work well or be of less interest to that program. I think it's also important to allow enough time to do a good job on a proposal, having a detailed outline of a plan at least six weeks or more before submission deadline that can be discussed at length with partners, and then trying to have a full initial draft of the proposal about a month ahead of the proposal deadline so there is plenty of time to circulated to partners so it can be revised and improved upon. I usually try to do at least three to four rounds of proposal revisions, and it's in that revising process that it's possible to take a proposal from being merely good to being great, especially after getting feedback from not only collaborators on the project but other people who can help improve the proposal. In the final stages of revision, I'm thinking about what might a reviewer not understand about this proposal, or what might cause them to shoot it down? Is there any detail we've missed that is called for in the proposal guidelines? Even missing one seemingly minor piece of information can cause reviewers to drop a proposal out of consideration. Another key thing I do is develop a preliminary budget before even starting to write the proposal. That helps me think through what might be possible to deliver with the funds available, especially in the context of the types of science and deliverables that the funder is looking to support.
For large grant projects, getting an appropriate team quickly in place is important along with holding further planning meetings and thinking through both immediate steps and the overall plan for meeting the project deliverables. Reviewing the budget and seeing if any initial changes are needed are important. Of course, setting up good processes for meeting project milestones and the timeline is important. Since we have multiple large projects through the center, we are taking the approach of generally having a project manager for each major grant or key components of major grants.
For both of our large, multi-million-dollar grants, we involved more than just other scientists, we also partnered with external groups who could help us think about how to get the most impact from our research. Regardless of whether the topic area is agriculture, health, engineering or other areas, I think listening to the ultimate users of the information is critical to developing impactful projects where the science can make a difference.
It's not enough to just have good research ideas to be successful in today's granting environment. Getting onto review committees is something I recommend for all early-career faculty so they can see how reviewers think about proposals and the things that cause proposals to be rejected. Also, with many grant programs moving towards larger amounts of funding where you are expected to have at least a few partners and possibly several partners, it's important to be building a network of collaborators. Some people try to scramble and find a couple of collaborators after a grant program is announced and the deadline is fast approaching. That's generally too late, as you won't have time to build the relationship and may find that the person you wanted to collaborate with is already signed onto another proposal. Having relationships already developed and being aware of when upcoming grant competitions are likely to be announced can allow a faculty member to be better positioned to have a strong team together very quickly and focus more time on the proposal development instead of trying to find collaborators. Going to relevant conferences and engaging with possible collaborators from other institutions can be an important aspect of building those relationships.