Image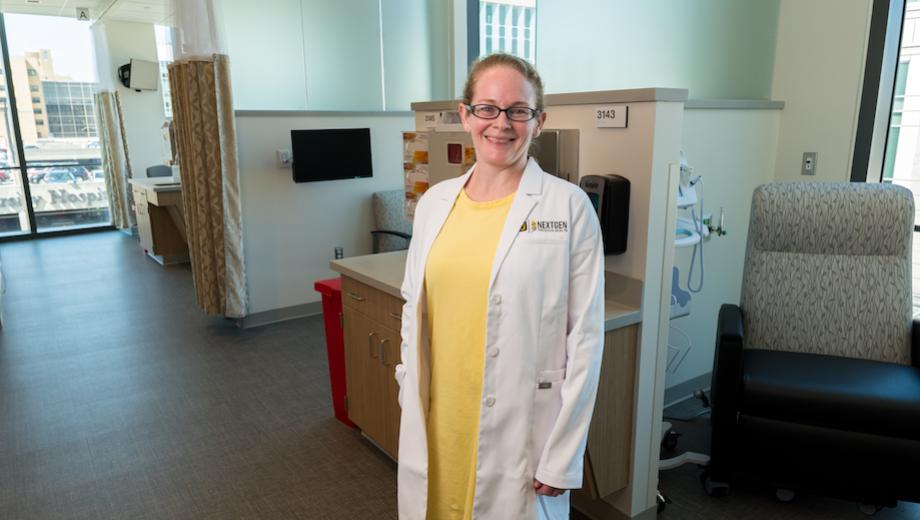 While a neurologic physical therapy resident, Kris Kelly started seeing several patients with different neuromuscular diseases.
To assist these patients, she reviewed existing literature for exercises or physical therapy to help treat their conditions but quickly discovered the lack of research into these rare conditions.
"I asked myself: 'How am I going to treat these people?'" Kelly says. "I pulled pieces together from different places and was always excited to see how much improvement they made. But it's hard for people with neuromuscular conditions to get that kind of treatment, and because it is difficult to find therapists with the right expertise, they don't always seek out therapy, so they potentially are worse off than they would be otherwise. I thought I should do something about it."
That mixture of curiosity and forging new treatment paths motivated Kelly, now an assistant research professor in the Department of Physical Medicine & Rehabilitation at the University of Missouri.
It also launched her hands-on investigations into exploring neuromuscular diseases, examining their causesand discovering new treatments.
Her research is bounding forward with new clinical trials in the 265,000-square-foot Roy Blunt NextGen Precision Health building, which opened in late 2021. Using the sparkling research center's newly opened Clinical and Translational Science Unit (CTSU), Kelly is employing state-of-the-art equipment to pursue life-changing precision health advancements to uncover a better future for the health of Missourians and beyond. 
The approximately 15,000-square-foot space on the third floor is a hub for exercise and nutrition science, cognition studies and first-in-human clinical testing that ensure MU encompasses bench-to-bedside research.
"We've been ramping up to start many different research projects, and we're very excited," Kelly says. "The CTSU staff helps to manage the entire process that would be infeasible for a single principal investigator.
"The facilities are second to none. It's a brand-new unit. And they spared no expense to ensure it's equipped with the rooms, labs and equipment for this type of research. It's impressive, and it gives us a lot of capacity to do several types of projects."
Clinical trials in the CTSU show how the NextGen Precision Health initiative is connecting innovators from across MU and the UM System's three other research universities to patients to engage in life-changing precision health research.
"Dr. Kelly's research is just one investigation with life-changing possibilities being conducted through NextGen," said Dave Arnold, executive director of the NextGen Precision Health initiative. "By leveraging the big, new ideas of our researchers at all stages of their careers, our work is accelerating medical treatments for patients and shows how the NextGen initiative is building on well-established partnerships and advanced equipment to transform health care in Missouri and across the country."
Fearless sense of discovery
Kelly's research focuses on fatigue and exercise in neuromuscular disease, including understanding the relationships between disease pathophysiology and motor function. She also investigates effective physical therapy interventions with the goal of modifying the impact of neuromuscular disease progression and aging on function and healthspan.
"Fatigue is a common complaint in many different neuromuscular diseases, but it's also very complex, which is one of the reasons why I think there's not a lot of research on it yet," she said. "Fatigue is also relevant to exercise in the sense that exercise can help improve fatigue, but fatigue can also limit and prevent people from exercising.
"We need a better understanding of fatigue and neuromuscular disease in general, but then also how fatigue interacts with exercise so that we can come up with exercise prescription in a personalized way that can have a real impact on overall disease management."
A neuromuscular disease Kelly is particularly interested in is myasthenia gravis, a chronic autoimmune neuromuscular junction disorder and the focus of a collaborative study using the CTSU with the University of Kansas Medical Center.
"In myasthenia gravis, the place where the nervous system meets the muscle is affected," Kelly said. "This is called the neuromuscular junction. There's a gap where a signal called acetylcholine crosses from one side to the other. On the muscle side are these receptors where that signal is received. And in myasthenia gravis, a person's body is attacking those receptors, and the signal has fewer places to go and that interrupts the muscle's ability to contract."
The disease causes weakness in the skeletal muscles in the neck, arms and legs and can impact eye and eyelid movement, facial expressions, chewing, talking and swallowing.
Myasthenia gravis commonly affects younger females (under 40) and older males (over 60) but can occur at any age.
"It can be very debilitating and difficult just to get through the things you need to do every day," Kelly said. "For example, people can struggle with walking for any lengthy period or holding their arms overhead when putting away dishes. And then, as years pass, muscle fatigue can transition into a more severe chronic fatigue issue where there's just this overwhelming sense of weakness and tiredness that makes it hard to maintain effort in everyday activities.
"A myasthenic crisis will land you in the hospital. It's an expensive disease to have."
The CTSU space in the NextGen Precision Health building allows Kelly's inquisitive research to seek new answers to myasthenia gravis and other neuromuscular diseases. The facility also unlocks the power of MU's experiential research, a journey that could uncover better lives for all.
"NextGen researchers are exploring precision health solutions for society's toughest diseases," said Scott Rector, director of the NextGen Precision Health building. "The Roy Blunt NextGen Precision Health building is the cornerstone of the systemwide initiative, designed from the ground up to facilitate the complete life cycle of research from discovery to early phase clinical trials under one roof, seeking innovations to improve the lives of people everywhere."